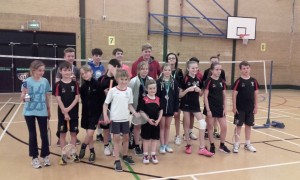 17  members of the IOW Junior Badminton Development Squad travelled to Havant on Sunday 15th May to compete in a mixed ability open tournament hosted by the "Havant Hornets" junior badminton club. They were supported on the day by various family members, as well as Richard Gray, senior county team manager and coach and Keith Hobbins, junior development  secretary and lead coach. 31 people travelled in total.
It was a long day with the kids playing between 8 and 10 matches each depending on the numbers in their groups.
There were approx 100 competitors in total who were split into beginners, experienced club players and more experienced players, including  many who play at county level. The players in each of the groups were very well matched (well done the organisers) and all the matches were played with a very high degree of focus and determination as well as skill and athleticism.
Between them the island players won 6 individual and 2 pairs silver medals as well as exceptional performances from Oliver Clow,  who won all of his games to take individual gold and Isabelle Honnor and Lacey Gulliver who won their pairs gold.
Sam Collings, despite never having trained with the squad, paired up with another relatively new player Curtis Thompson and put on an excellent display of team work and effort to also take their  pairs gold.
Despite the very high standard of play on display the highlight of the day came after the tournament had finished. At the end of the presentation of trophies and medals a special trophy was awarded to an individual, chosen by the coaches and officials, who might not be the best player but who demonstrated the best attitude and approach to their game, showed respect and consideration to their opponents and the officials and who played with a permanent smile on their face." I am very proud to say that the Player Of The Day Award went to another absolute beginner from the IOW, Georgia Crockett. Well done Georgia".
Players names;
Ryan Whitewood  16.  Jack Hobbins  14.  Richo Hadibroto  13.  Aaron Scott-Roberts  13.               Oliver Clow  13.  Sam  Collings  12.  Lily Green  12.  Isabelle Honnor  12.  Lacey Gulliver  12.           Emily Clow  11.  Curtis Thompson  11.  Sarah Baggott  10.  Georgia Crockett  10.  Sam Gray  10.  Matthew  Lockhart  10.  George  Gray  8.  Joe Crockett  8.